About
Whiskey & Boots is a Perth based performance company.
We make Headphone Verbatim Performance work that examines the challenges and contradictions of the human condition.
Using storytelling with music we take real stories gathered from a community and share them publicly, illuminating moments that are familiar, expose common challenges and secret fears, reminding audiences that we are all complex, ugly, beautiful, brave, funny, flawed and vulnerable.
Our work is low-fi, stripped back and welcoming, the fourth wall doesn't exist.
Through the sharing of honest moments in intimate spaces we can try to understand each other better, boldly, honestly, playfully.
Whiskey & Boots are the proud recipients of The CircuitWest 2022 Pinnacle Award for Western Australian Producer of the year.
Whiskey & Boots are proud to be nominated for 3 PAWA awards 2023-Outstanding Contemporary or Experimental Performance, Best Independent Production and congratulate Georgia King for winning Outstanding Performer In a Leading Role for Mama Stitch-Mandurah.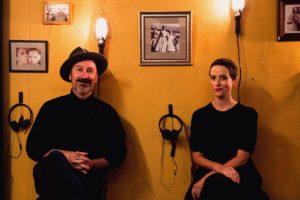 Image Fionn Mulholland
Whiskey & Boots respectfully acknowledge the traditional owners and custodians of the land on which we create work, the Whadjuk people, as well as other First Australians connected with this land. We pay our respects to Elders both past and present.